Simple tricks for organizing your dorm room
Once you settle into classes and extracurricular activities, it is time to take a second look at your living space. Chances are that in the hustle and bustle of starting school, things can get fairly disorganized inside your dorm. Your busy schedule combined with limited storage space can be a recipe for chaos, but an orderly space is necessary for both focus and relaxation. If you are having difficulty organizing your room, check out these helpful tips.
Collect your cords 
Limited outlets are a hallmark of dormitories everywhere, but today's students are all about being plugged in. Chances are you have a slew of extension cords, wires and plugs lying around your room. Not only does this look messy, but it can also present a number of safety risks. This problem is impossible to eradicate, but there are a few things you can do to manage the mayhem. Here are a few suggestions for cord organization:
BuzzFeed suggests attaching binder clips to your desk. Plug phone and computer chargers into an available outlet, then weave them through the clips so they stay put on your desktop.
If you and your roommate have multiple similar-looking cords, use colorful electrical tape to label them near the plug. That way, she will not unplug your room fan when trying to grab her laptop charger, and vice versa.
For more in-depth plug labeling, The Gloss suggests saving plastic tabs from bags of bread and hooking them around the necks of your plugs. These have just enough space for you to write out a full description of the appliance each cord is attached to.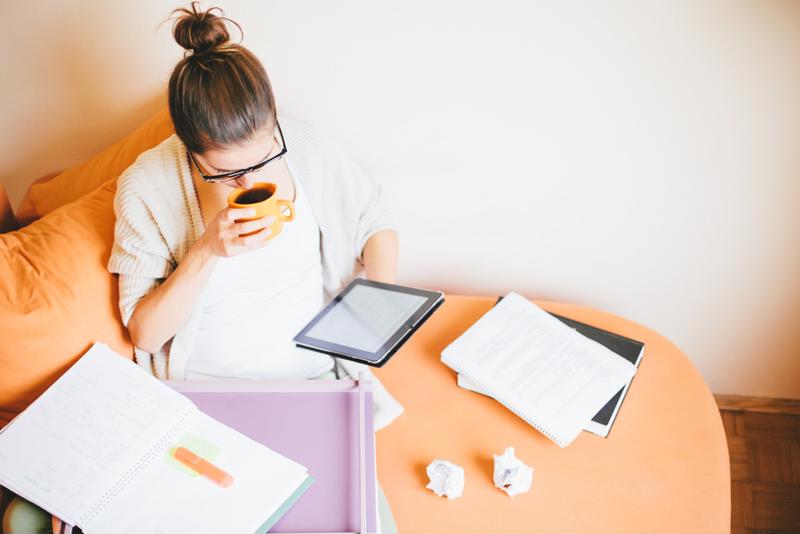 Hang out 
Floor and tabletop spaces are extremely limited in dorms, so you should think outside the box and take advantage of your walls. Not only does hanging items clear up more room for furniture or free space, but it also makes them extremely easy to access. Try purchasing multiple hanging over-the-door shoe racks. Use one for footwear, then use the others to store snacks, school supplies, jewelry or more. Purchase cloth hangers and look for ones with clear plastic pockets. That way, you can see what each compartment holds.
"Repurpose hanging shower caddies."
You can also repurpose hanging shower caddies to hold extra items that are strewn about your room. Gurl.com explains that these are great for holding things that would otherwise take up space on a desk or dresser, like notebooks, pencils, folders, scissors and stationery. Because many schools do not allow students to nail holes into their walls, try hanging these items using adhesive-based hooks. This way, your surfaces are reserved for items like lamps, room fans or computers that do not serve their purpose when relegated to a closet or secluded corner.
Boost your bed 
One of the oldest tricks in the organization book is to store extra items below your bed. This tip comes in handy in dorm rooms, as they usually come with beds that are able to be raised high off the floor. If your bed is able to be altered, raise it to its highest level. This gives you plenty of space to store bins, boxes, laundry baskets and other cumbersome yet necessary items. Label every container you store under your sleeping space so that you do not need to take everything out when searching for a singular item.
Stacked boxes can be somewhat unsightly, so try purchasing a comforter that is slightly larger than your bed size. For example, if you are sleeping on a twin, buy a blanket meant for a double or queen. This will give you some extra material you can drape over the side of your bed to keep your storage area hidden from sight.
---
Comfortable Living News … brought to you by Lasko Products, LLC, leaders in innovative, quality, high-performance home comfort products at a great value.